whale
︎ Project Timeframe

4 Weeks (Jan 2020 - Feb 2020)
Collaborative Project
︎ My Role


Visual Design and Prototyping
User Experience Research


︎ Deliverables

User Interface Prototypes
Final Presentation



---
whale is a diary app that

rethinks the way of taking diary.

Inspired by the instant messaging apps, whale uses a

chat interface

for quick idea-capturing and organization.
---


Research


After interviewing and along with other methods, we have found

the habit of keeping a personal diary declined among the young generations

. We summarized some of the problems here:




︎

Technology has made people get used to speed.

People type faster than they write

, soon become tiresome for those who consider speed.

︎





Social media has made people more social than ever before. Writing in personal diaries doesn't get people any likes.

︎

Not able to get time for these activities. Most people can't maintain the habit of spending specific times everynight to organize the notes.

︎





The moments often passed before even having a chance to record.
Interview


We conducted interviews with 25 participants including introverts and extroverts, to find out their perference for diary taking and their thoughts on current diary apps. Here are some quotes from four of the participants:


"I am not much into preserving memories, for me Ins is already enough. Haven't tried any digital diary before tho."
"Digital journaling apps tend to be too complex for what I need."
"Diary entries take time to write and formulate into coherent paragraphs."
"I occasionally have insights that I think are worth recording, but at work I don't have time to write them on time."


*Participants: 25. Careers are students, young professionals, professors and technicians. Ages range from 19-56
72% of the participants have taken diary or attempted to maintain the habit before.
52% of the participants have tried digital diary apps. (Day One, Journey, and other note apps)
76% of the participants use social apps for the purpose of diary.
According to the content of the diary, 88% among the 18 diary takers write about events happened in life. 5% write future planning and 5% for quotes.
76% of the 13 digital diary users gave up on diary apps due to the complexity of functions.



---


My Approach



My approach is to

redesign the process of taking diary, and boost the effiency of digital diary system.


︎Primary user: People who are interested in digital diary but are disatisfied with the current apps on market.
︎Secondary user: People who update diary frequently and catch little details in life.



Information Architecture

The three parts dominates the structural hierarchy -

T

oday, Past Entries, and Input.

Our goal is to avoid missing any quick moments in life, therefore a Quick Note page pops up everytime when the app relaunches. With the launch of iOS 14 this Fall we also expect utilizing the Widget function as a shortcut for write diary from homescreen.

Low Fidelity Prototype
*The Lo-Fi Prototype does not reflect the final design. The diagram was redrawn after the project finished for better visualization.


Hi-Fi Statics

Homescreen
The pop-up Quicknote page appears everytime when app launches, then the Today page.

Settings
Access through the setting icon on the right top of the homepage.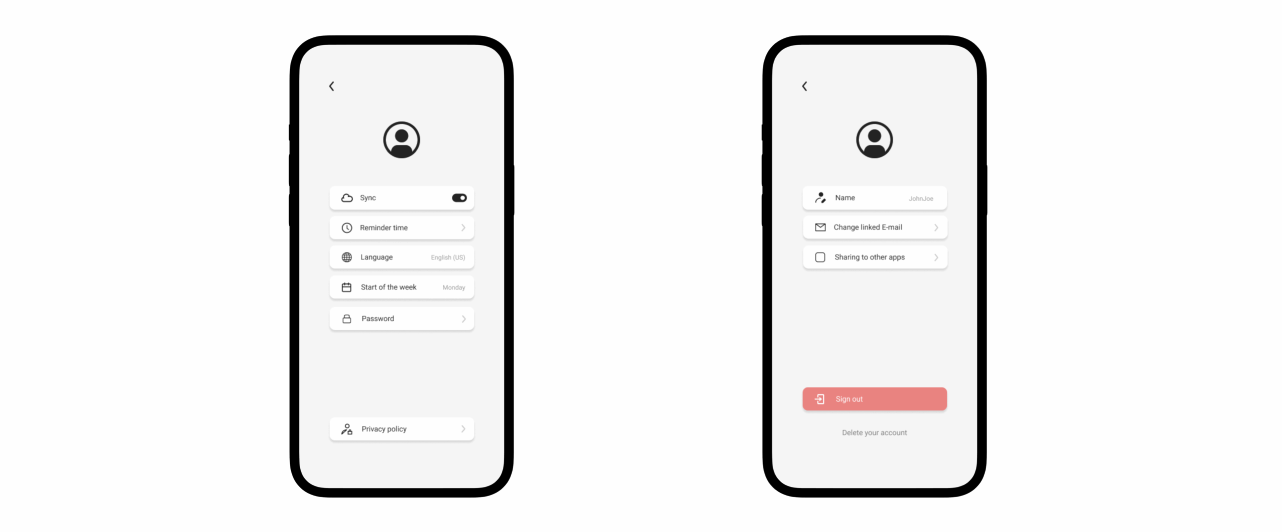 New diary page & Past Entries
Straight-forward access through the tab bar.