zoomorphic amalgamation
︎ Project Timeframe

16 Weeks (Feb 2022 - June 2022)

︎ What I did


- 3D Printing and Assembly
- Physical Prototyping
- Arduino coding and Huskylens training
- Research


︎ Deliverables

4 Interactive wearables
Thesis Exhibition at RI Convention Center
Thesis Paper
Artist Book


Given that current society lacks efficient solutions for introverts to navigate extroverted settings — other than compromising and adapting — I propose Zoomorphic Amalgamation as a speculative way to rearrange this imbalance.




Background



The Current Society

'Being an introvert isn't an easy task', stated by Carmen Rand, the author of Introvert: A Practical Guide to Connecting With Others at Networking Events and Beyond. We live in a world that upholds the extrovert. In many perspectives, society places a premium on outgoing behaviors such as gregariousness, rich network connections, and assertiveness.


Introverts, on the other hand, can be overstimulated by the environment, thus at a disadvantage on self-promotion and getting in front of other people's eyes. Speaking for the introvert group, I question

how I could create an environment that equally values introverts and extroverts? How can introverts express their need for quiet spaces and time apart? And how can this scenario be changed in future generations?





The Social Standards

In contemporary times, social pressure forces introverts to attempt talkative and genial personas, as if asking them to alter their DNA to fit into the cultural norms.

Is there any therapy or treatment that can comfort introverts? Unfortunately no. Consolation for introverted individuals is found through the detachment from others and spendingtime alone, which is difficult to manage in today's on-the-go society. Work, school, family, and social media fill all parts of our life, forcing introverts to adapt to social rules tailored to extroverts.

Thus, my work serves as a tool to ease the mainstream path and embrace the introverted temperament.


Proposal




Human and Technology

Through the exploration of technological sensors and microcontrollers, I focus on searching for alternative communication methods that benefit the introverted personality in speculative frameworks. Through these speculative wearable devices, I investigate how alternative futures can suggest pathways of correction for Western mainstream culture.
The project places the human body at the center of transdisciplinary and transhumanism research, revealing how the devices are able to affect wearer's emotions and adapt to the surrounding environment.
The Speculative Framework
The framework addresses the possibility that after decades, society remains the exclusive stronghold of introverts and the general public is still not aware of the needs of introverts for survival equality. The lack of so-called treatment therapy causes introverts to remain in a state of forced adaptation to extroverted society.
This project is created to assist introverts surviving in the society and releasing their need for quiet. The work also
aims to increase awareness of the extroversion dominance in contemporary society.
Sensors


The body's sensual and multisensory interactions through sight, sound, smell, taste, and touch enables the human body to receive sensory information.
By utilizing face-recognition modules as well as other sensors connected with Arduino, the system extends the humankind's biological capacity to detect, communicate, recover, and adapt on a continual process of metamorphosis.
Build up the system
---


Design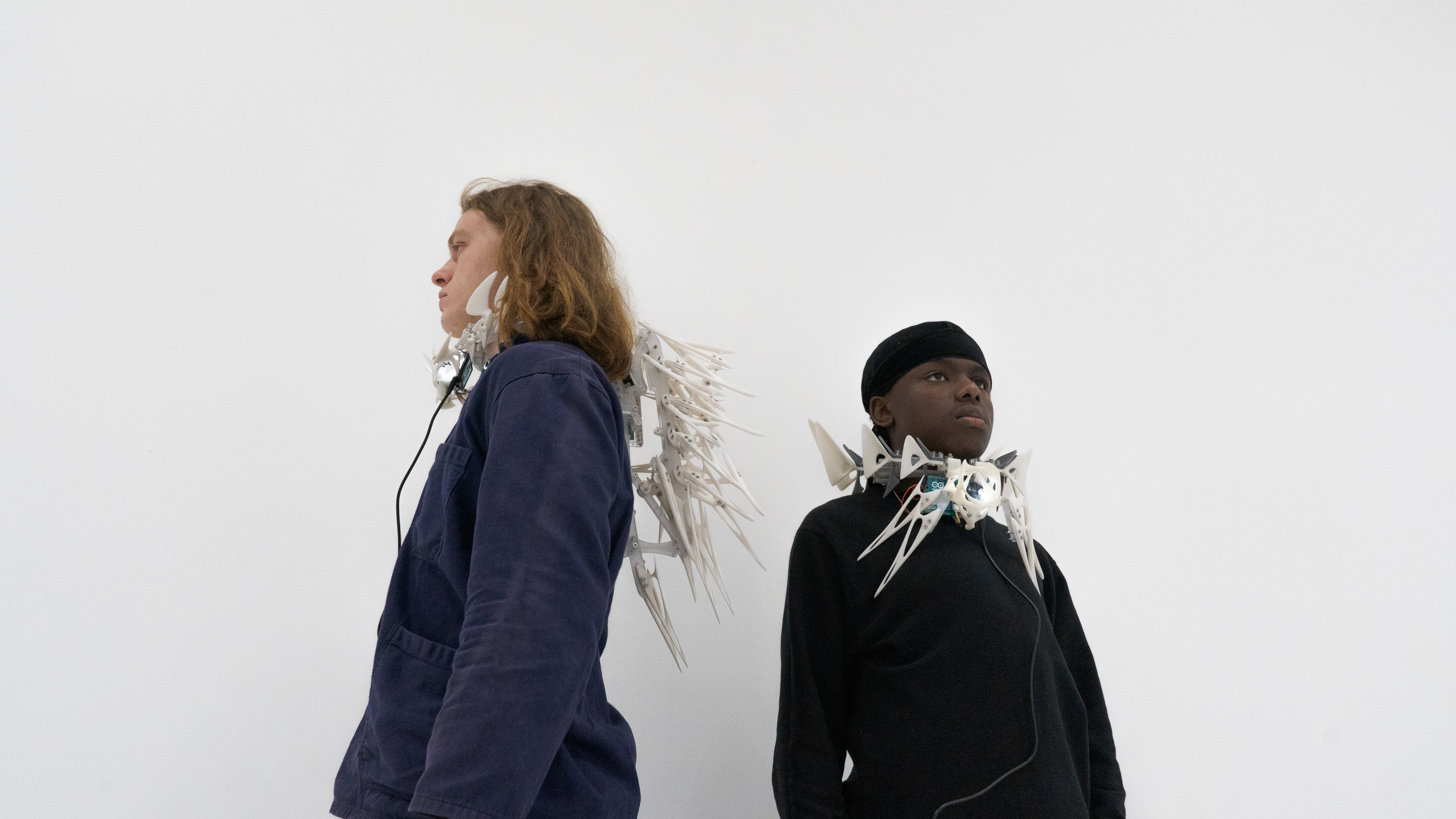 ---
︎ To read more about this project, visit this project on RISD GRAD SHOW 2022
︎ Vote this project on ARTS THREAD - GLOBAL DESIGN GRADUATE SHOW 2022