Swarovski X SCADpro Collaboration

︎ Project Timeframe

10 Weeks (Feb 2020 - May 2020)
*This project was updated for better visualization in 2022
︎ What I did


- User Interface Design
- Information Architecture
- CAD Modeling and Rendering
- Concept Exploration


︎ Deliverables

- Presentation to faculty and Swarovski Team
- Website Prototype


The goal of this project is to
develop a interactive platform for visualizing and presenting Swarovski's Crystal Collections to wider audience groups.
About the project


SCAD partnered with Swarovski to host the course Jewelry and Fashion in 2020 to evaluate new product innovations and new applications of crystal, glass, and jewelry across different majors. The outcome of this project is reported to Swarovski representatives and evaluated by jewelry faculty.


What if there is a website that helps people understanding and choosing Swarovski Crystals?
Crystals from Swarovski have become an indispensable material for the creations of international designers. Swarovski sells its loose and forward-integrated crystals to the worlds of fashion and design under the product brand Swarovski. Swarovski introduced the Crystal Collection App a decade ago but later delaunched in 2014.

Yet there is no digital catalog online except a PDF document which was last updated in 2018.




Research


Target Users

🛠️

Handmade crafters
Jewelry maker
💃️

With the successful influencer marketing strategy, Swarovski is becoming popular in Gen Z
🙋🏻

Hobbyists
Craft enthusiast
Art Students
Jewelry institutions
🚈️

Young, educated and employed professionals
Objective

To convey the message of Swarovski's unique quality crystals to the target audience.
To focus on changing perception.
To give international designers extended insight into the world of Swarovski crystals.



Brainstorm


The first couple weeks of the project was about competitor analysis and secondary research into potential users. By gathering information from Swarovski articles and analyzing target user groups, out exploration redirected our mind from building a technical oriented website to a

young, fresh and playful

website. According to Swarovski's press release, the company targets the millennial and Gen Z shoppers, aiming to adjust its retail behavior to a modernized and interactive shopping experience.


Design Metrics and Insights

The design metric system aim to enhance attractions and reduce the learning curves of selecting crystals. To promote efficiency we come up with some of the problems we need to solve:
1. In the initial stage of crystal hunting,

customers are having difficulty to understand the specs and professional terms

.
2. There is no

clear description

of each type of crystals. For example, round stones and vision round stones are identical in top views and flat drawings. In fact as a collaboration series between Swarovski and Atelier Munsteiner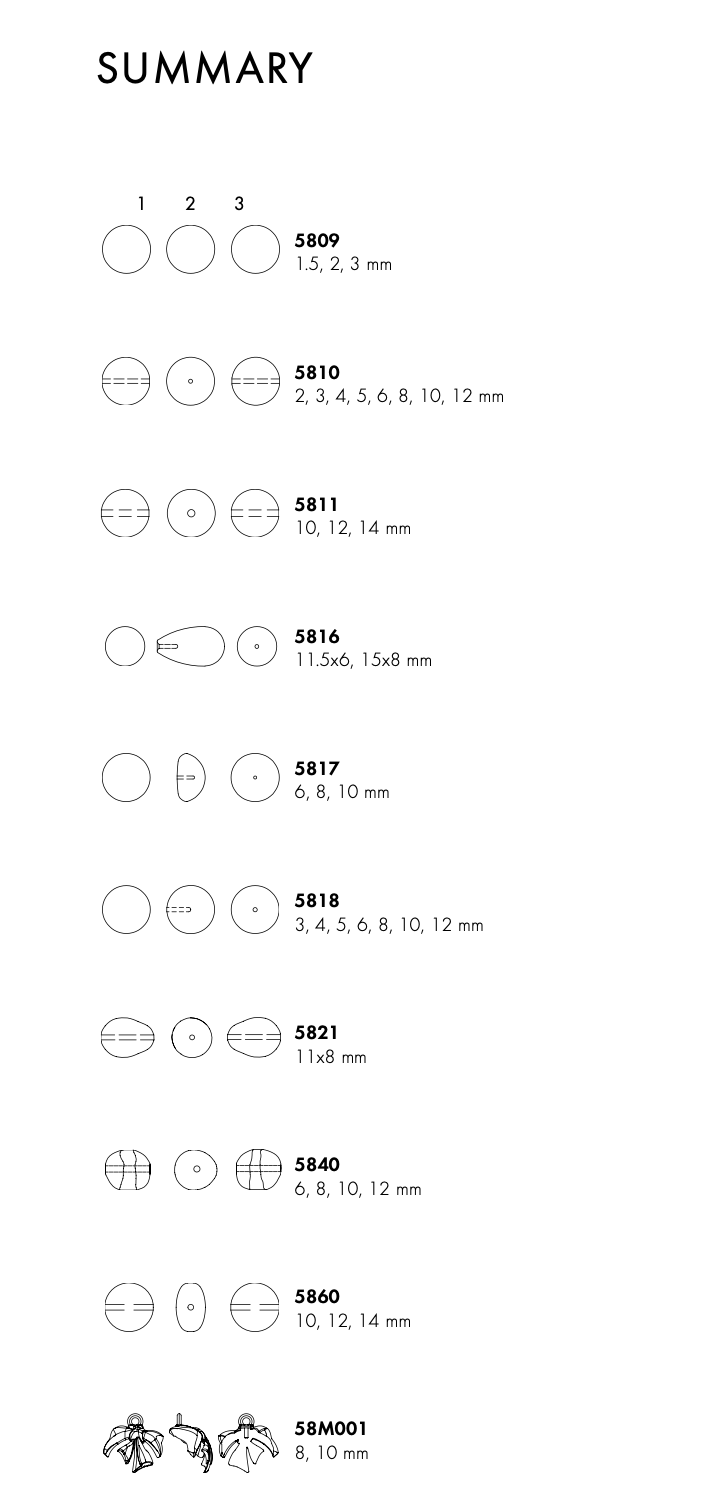 Crystal catalog from Swarovski. Complex document content drives audience away.

3. Unable to see the crystal

three-dimentionally

, which makes it difficult to understand the color, size, and clarity.
4. Lack of motivation and low interaction between the catalog and customer.




Attraction


Extra large 3d rendered crystal takes place in the center for catching the attention.

Engagement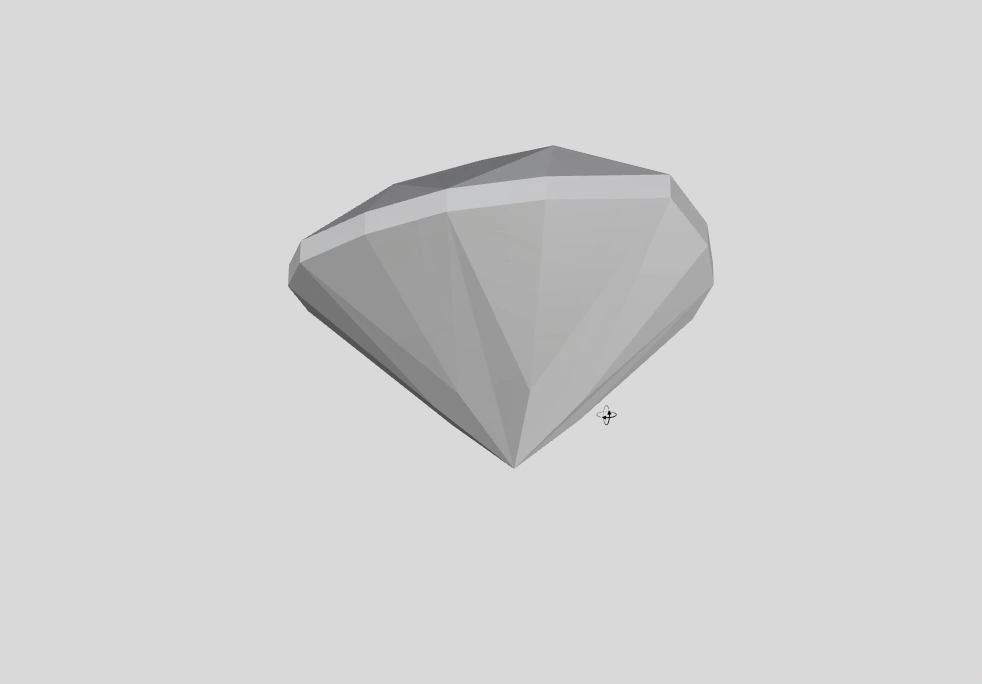 3D interaction for increasing engagement.
Prototype


︎ Challenage 1 - Users are not able to see the color, material and clarity clearly.
︎ Problem-solving - By embeding a three-dimentional rendered image on webpage that user can orbit and scale up.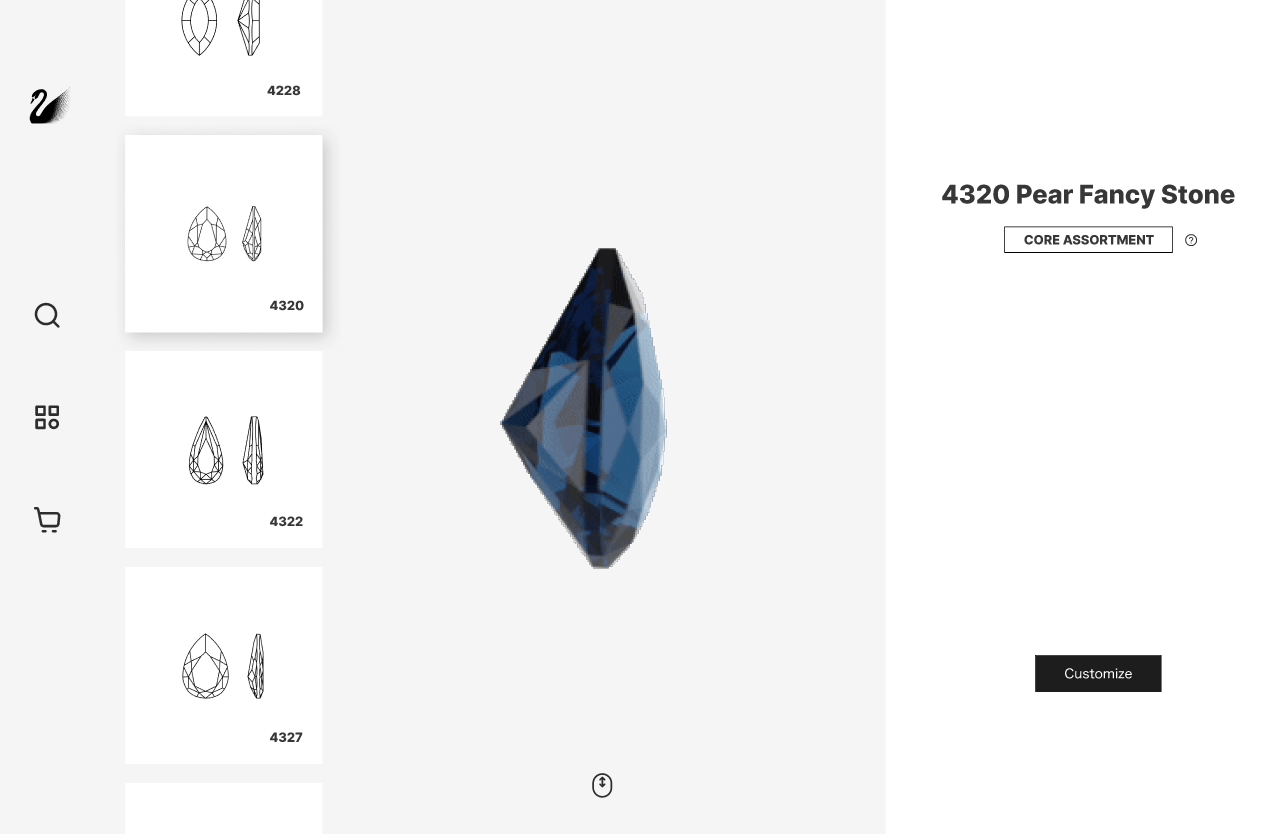 ︎ Challenage 2 - Complex specs and color selection directory. Each stone has limited color and size combination which is difficult to identify.
︎ Problem-solving - Translate the directory to a step by step navigation for directing the user to purchase the items.


The original color catalog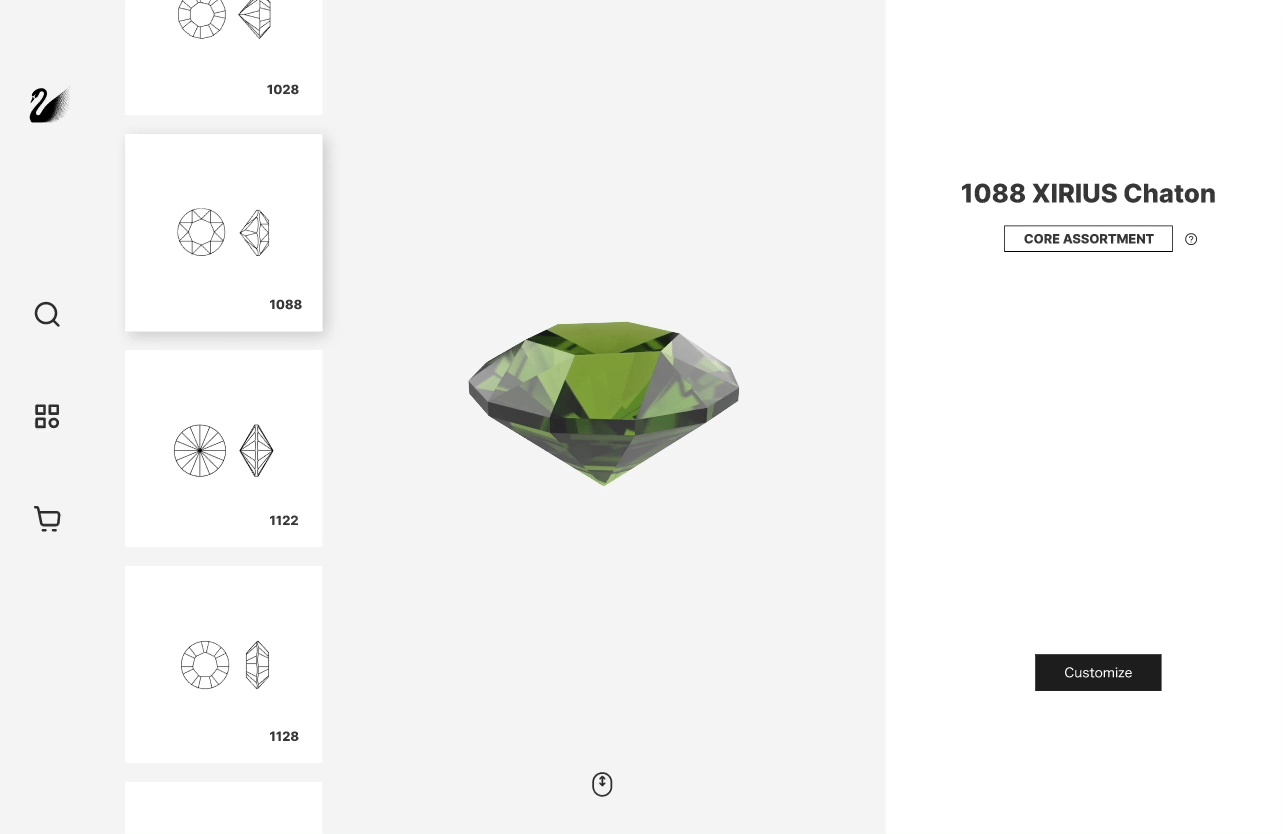 Updated


︎ Challenage 3 - Stone information is not located in the same page as the catalog.
︎ Problem-solving - Providing a easily accessible pop-up window to show information.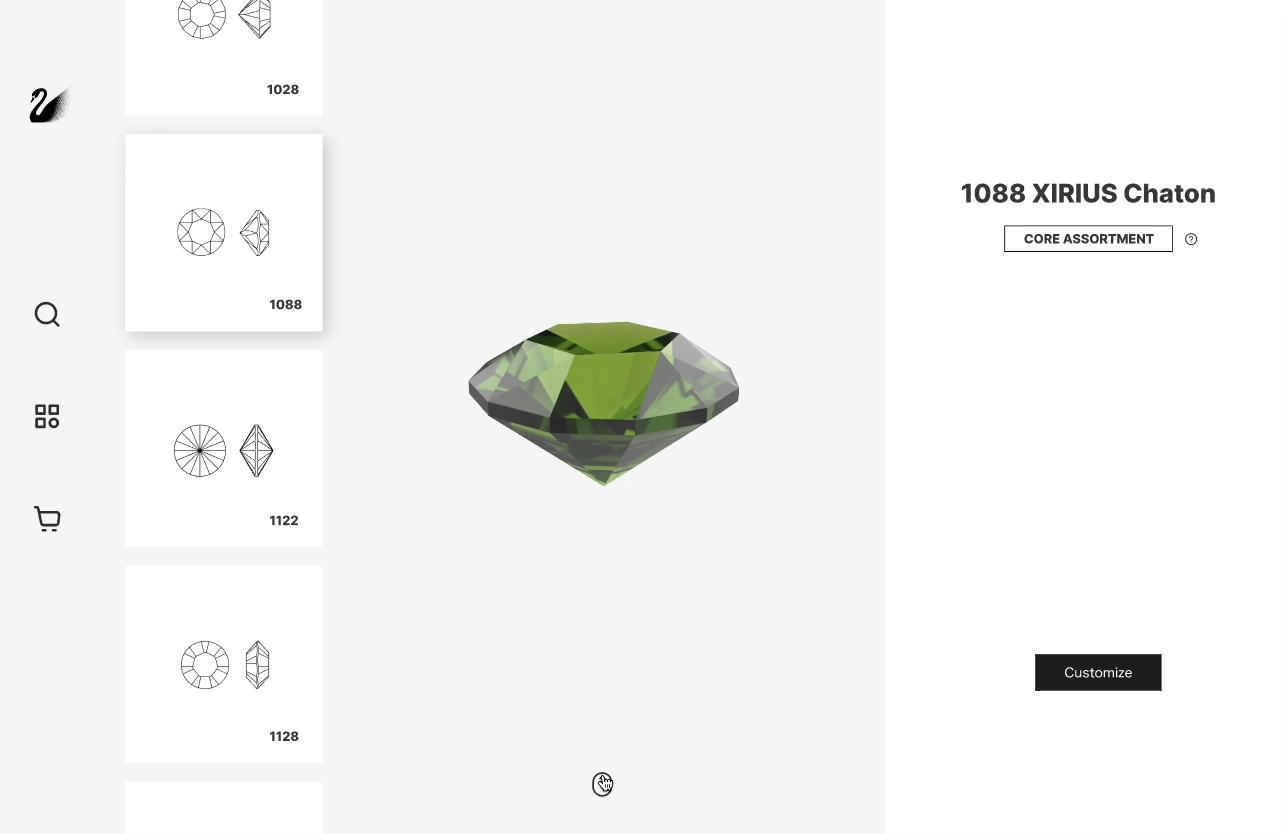 ︎ Challenage 3 - Complex directory and not easy to find a similar type of stone.
︎ Problem-solving - Integrating a scroll bar on the left side for quick navigation to crystals in the same categories.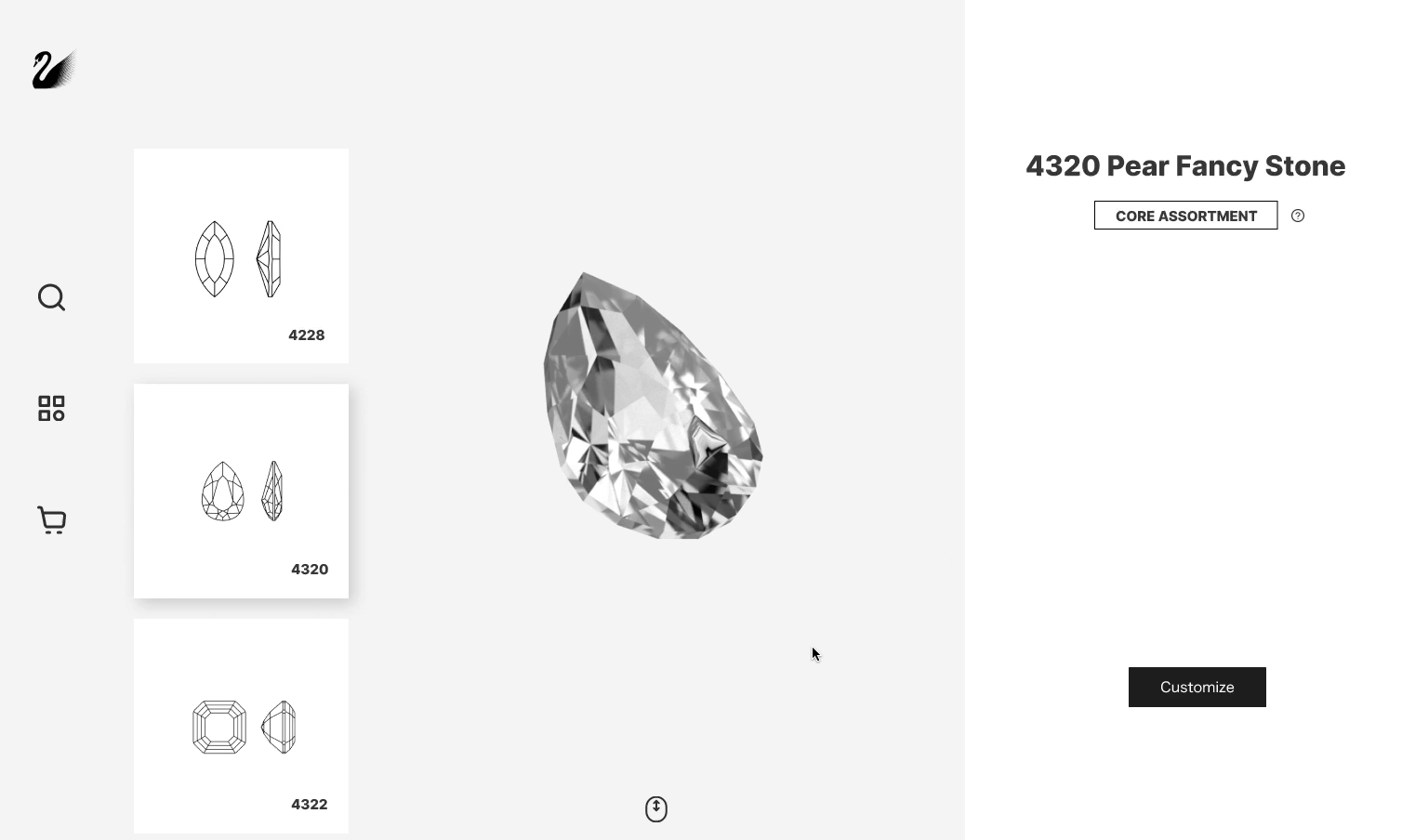 ︎ Challenage 4 - Ability to search the crystals.
︎ Problem-solving - A search page stick at the left panel.